Active potassium hydroxide wholesale procurement
Active potassium hydroxide wholesale procurement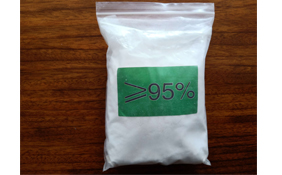 High quality active potassium hydroxide (powdered)
Chemical formula: KOH
Relative molecular weight: 56.11
Properties: white powder, strong alkali and corrosive. Due to its small particle size, large specific surface area, it has good dispersibility and solubility. A large amount of heat is generated when dissolved. The pH of the 0.1mol/L solution is 13.5.
Uses: Widely used in mineral processing industry, alkaline batteries, disproportionated rosin potassium soap, detergents and cosmetics, pharmaceutical intermediates, various potassium salts, synthetic rubber, ABS resin, food additives, paper component, petroleum refining.
Technical indicators:
Powdered potassium hydroxide technical index
PRODUCT NAME: POTASSIUM HYDROXIDE (POWDER)
Item Item

Indicator Standard

Potassium hydroxide (KOH) w/% ≥

95.0

Potassium carbonate (KCO3) w/% ≤

0.5

Chloride CLORIDE (Cl) w /% ≤

0.005

Iron (Fe) w /% ≤

0.0002

Sodium (Na) w/% ≤

0.5

Nickel (Ni) w/% ≤

0.0005

Heavy metal Heavy Metal(Pb)w/% ≤

0.001

Fineness

180μm test sieve residue (80 mesh) /%

Pass 180μm test sieve ≤

5

150μm test sieve residue (100 mesh) /%

Pass 150μm test sieve ≤

20

Whiteness/degree

Whiteness/degree ≥

80

Bulk density g/m

LBulk Density g/mL

0.2~0.5

Reaction rate mol/min

Rate of reaction mol/ min ≥

1.5
Handling precautions: The operating site should be well ventilated, away from fire and heat sources. This product is extremely easy to absorb moisture and should be avoided in a humid environment. Operators should wear protective clothing, protective glasses, and dust masks.
Storage and transportation precautions: It should be stored in a ventilated, dry warehouse and the container sealed. During storage and transportation, it should be isolated from acid. It should be protected from rain, not exposed to air, and not in contact with acid or water. Keep away from flammable materials. When handling, it should be lightly loaded and unloaded to avoid damage to the packaging.