Polyvinylidene fluoride for lithium battery
Polyvinylidene fluoride for lithium battery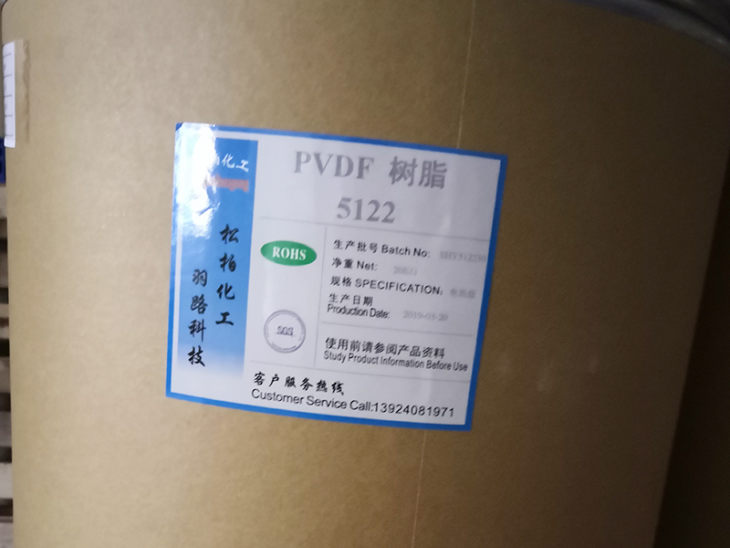 Processing safety instructions:
This product should be processed at temperatures below 370 °C to avoid the generation of toxic gases;
PVDF has good flame retardant and smoke suppressing properties, but when exposed to an open flame, it still releases toxic hydrogen fluoride gas and fluorocarbon organic compounds;
Operators should be personally protected during use and processing.
Packaging and storage:
Available in 20 kg packaging, PVDF is packaged in polyethylene plastic bags and packed in cardboard drums.
Store in a clean, cool, dry place.
Features:
1. PVDF has excellent chemical resistance, excellent high temperature resistant color change and oxidation resistance.
2. PVDF has excellent wear resistance, flexibility, high tensile strength and impact strength.
3. PVDF has excellent UV resistance and high energy radiation.
4. PVDF is less hydrophilic.
5. Fluorinated resin (commonly known as thermoplastic Teflon) that can be injected and extruded.
6, good heat resistance and high dielectric strength.
Main product indicators:
| | | |
| --- | --- | --- |
| Test items | unit | index |
| Exterior | | White powder |
| density | g/cm3 | 1.77~1.79 |
| Weight average molecular weight | Ten thousand | 30~50 |
| Solubility | | Solution clarified or yellowish without impurities and insolubles |
| Rotational viscosity | Mpa.s | 3500~5500 |
| Moisture content | % | ≤0.06 |
| Melting point | °C | 160~168 |
| Crystallization temperature peak (DSC) | °C | 137~145 |
| Crystallization heat | J/g | 30~40 |
| Heat of fusion | J/g | 37~45 |
| Thermal decomposition temperature | °C | 375 |
| Surface resistivity | Ohm | >1.0E+14 |
| Volume resistivity | ohmNaN | >1.0E+14 |